I don't watch sporting events for the players or the game. Seeing incredible athletes accomplish phenomenal feats that I wouldn't dream of doing in a billion years…nope, not for me. Rather, I watch sports because of the officials. To be so close to the action despite having none of the athletic prowess, yet still have a serious impact on the outcome of each game…well that's a power trip I could really get behind. See, the referees are the true heroes of every sports league's story. I only wish more attention was given to them each game. I wish they never had to face any accountability for incorrect calls that cost teams, fans, and players their seasons. I'm not the only person who thinks this either.
A few years ago, an entire section of an NHL game between the New York Islanders and Vancouver Canucks was filled with fans mimicking the most impactful people on the ice — the referees. They went absolutely berserk for every call. This is the type of respect I believe all officials deserve.
In case the sarcasm throughout the last two paragraphs didn't jump off the page at you, I haven't been too pleased with NFL officiating recently. It feels as though every year, more officials make an effort to stir up drama and ruin a team's or specific player's day. Maybe I'm looking too deep into it though. Also, before I get into why I'm not looking forward to the officiating in Super Bowl LVII, I want to make it clear, this isn't an invitation to disrespect officials at any sporting event. While I do believe there needs to be some sort of accountability at higher levels for atrocious judgments, that's no reason to make a referee's life hell. Okay? Glad we can agree on that. Now, without further ado, I can't stand the guy who's going to head the officiating crew for the Super Bowl.
Carl Cheffers has called a lot of penalties
Carl Cheffers has been an NFL official since 2000. In that time, he has established himself as one of the league's most avid flag tossers. Since 2010, Cheffers has only once been below the league average in penalty yards enforced per game (2016). In 2021, games officiated by Cheffers saw penalty yards increase by over 27 compared to the league average. That was the highest mark in the NFL. But he didn't back down in 2022. Cheffers repeated as the most penalizing ref, although that number did drop from 27 yards over average to just 18. Over the last two years, Cheffers and his crew have called about two more penalties per game than average.
G/O Media may get a commission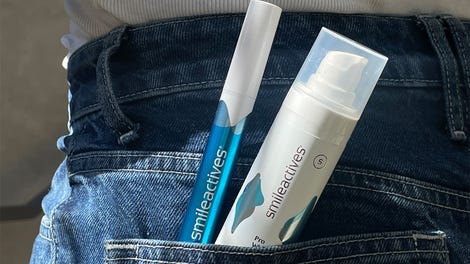 58% off
Whitening Powerhouse Pen & Gel Duo
BRIGHTEN YOUR SMILE
Whiten your teeth at home with Smileactives' one-two punch: the Whitening Powerhouse Pen & Gel Duo. This set will get you the kind of teeth brightening power that uses the same ingredients that dentists rely on for in-office whitening treatments for a fraction of the price.
While these incessant flags haven't affected the outcome of games — Cheffers only saw home teams win at a .02 percent rate above league average this year — the flags still make the game much less enjoyable for fans. There are absolutely zero people on the planet who love seeing the pace of a game come to a standstill. Whether it's basketball players fouling their opponents constantly and then pausing for free throws, numerous icing and offsides calls in hockey, or back-to-back-to-back holding penalties in the NFL, slowing the game to a halt sucks, but I guess it should be expected for this upcoming Super Bowl.
It also appears that the officiating has leaned drastically in favor of one specific team. In his last six games officiated — and nine of his last 10 — Cheffers has called at least twice as many penalties on one team than the other. It all started on Nov. 6, 2022, during a game between the Arizona Cardinals and Seattle Seahawks. The Seahawks won that game by a final of 31-21. They were penalized six times for 34 yards. The Cardinals were penalized 12 times for 77 yards.
The next week, the Pittsburgh Steelers beat the New Orleans Saints 20-10. The Steelers suffered only three penalties. The Saints? Ten. Now, this isn't to say that the team that faces more penalties is dead in the water. Of those nine instances where one team trudged through twice as many flags, three of those teams wound up winning the game: The New England Patriots in Week 12, the Buffalo Bills in Week 16, and the Kansas City Chiefs in Week 15. In all fairness though, the Bills and Chiefs played the Bears and Texans respectively in those games. It doesn't matter how many penalties each team racked up in those games, you'd expect them to beat the organizations with the first two picks in the upcoming draft.
Cheffers and the Chiefs
I want to talk about the Chiefs a little bit more though. This season, Cheffers refereed two of Kansas City's games. The Chiefs were called for 11 and 10 penalties in those games, respectively. This entire season, the Chiefs have suffered 94 penalties. 21 of them came from Cheffers across just two games. The penalty yardage is even worse. On the season, the Chiefs lost 923 yards to these penalties. 201 of those yards came from Cheffers. That's 21.78 percent of their total penalty yardage coming in just two games. Meanwhile, the Chiefs' opponents in those games suffered only nine penalties for 105 yards. Chiefs' opponents lost 845 yards this year, meaning only 12.43 percent of all Chiefs' adversary penalty yards came in those games. It's still higher than where it should be proportionately (2/17 = 11.76 percent), but it's much closer than where the Chiefs fall. Oh, and remember that Super Bowl between the Chiefs and Tampa Bay Buccaneers that saw Patrick Mahomes get blown out 31-9? Well, the Chiefs had 11 penalties called against them in that game. The Bucs? Only four. Take a wild guess whether or not Cheffers was on the officiating crew for that game.
Cheffers and the Eagles
Cheffers did referee one Philadelphia Eagles game this year — their Divisional Round matchup with the New York Giants — but the Birds only suffered four penalties in that game. The Giants suffered eight.
If you're a Chiefs fan, this isn't good news. If you're an Eagles fan, this is great news. If you're an NFL fan with no allegiance to either team, this means we're probably in for a boring championship game. By calling so many penalties, games that Cheffers officiates tend to be very low-scoring.
Cheffers has officiated 12 playoff games since 2010. The under has hit in 11 of those games with the only exception coming in Tom Brady's miraculous 28-3 comeback during Super Bowl LI. It hasn't been particularly close either. In those 12 playoff games officiated by Cheffers, the under has hit by an average of almost 13 points.
It's not all bad news for Kansas City though. The Eagles are currently favored by 1.5 points, and it seems Cheffers has historically been very kind to underdogs. Since 2019, they're 42-24-2 against the spread in games officiated by Cheffers. All I'm saying is that if you have an opportunity to parlay the under with the over on penalty yards against the Chiefs…maybe consider it. I know I will.


Original source here

#Expect #refs #throw #lot #flags #Super #Bowl #LVII