38, 388. That's the number LeBron Raymone James is shooting for to pass Kareem Abdul-Jabbar (38,387 points) on the NBAs all-time leading scorer's list. James is just 36 points away from completing a journey that seemed nearly impossible at one point. It's been a 20-year rollercoaster ride that many of us have watched from the beginning. But does finally passing Abdul-Jabbar and climbing to the top of the NBA's scoring mountain make James the undisputed GOAT? Well, those who fall into that camp will attempt to persuade you with their line of thinking once the deed is done.
If all goes according to plan, James could claim the scoring record Tuesday night in Los Angeles against the OKC Thunder. James should be able to do it that night, barring something crazy, and he certainly wants to get it done by Thursday against the Milwaukee Bucks, since the Lakers head out for a three-game road trip following that contest.
Will the real GOAT please stand up
Over the past couple of seasons in LA, the LeBron GOAT propaganda train has lost a little steam as he's gotten further away from winning championship No. 5. Five years ago, those in James' camp proclaiming him the "unquestioned" all-time great were certain he'd at least tie Michael Jordan in NBA Finals wins and Finals MVP awards for that matter.
G/O Media may get a commission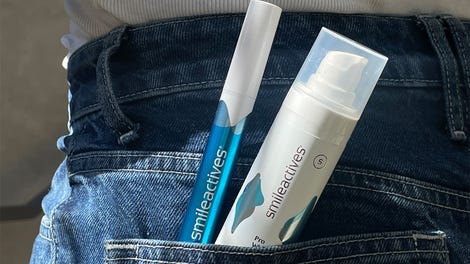 58% off
Whitening Powerhouse Pen & Gel Duo
BRIGHTEN YOUR SMILE
Whiten your teeth at home with Smileactives' one-two punch: the Whitening Powerhouse Pen & Gel Duo. This set will get you the kind of teeth brightening power that uses the same ingredients that dentists rely on for in-office whitening treatments for a fraction of the price.
Since the bubble title the Lakers won in Orlando in 2020, that talk has ceased, and now everyone's turned to James passing Kareem as the barometer for his achievements. However, as we've inched closer and closer this season, those who'd gone into hibernation regarding the Jordan-James goat debate have re-emerged just in time to get this propaganda party started.
No one is here to take away anything James has done because, quite frankly, he's been magnificent for two decades without a break. He hasn't always won, but for well over a decade, LeBron was undoubtedly the best player in the world. Even when he didn't win MVP, most years, he was still the most impactful player on the court.
By the time James' career is all said and done, he'll likely have scored over 40,000 points, along with finishing top four in assists and top nine in steals. In case you're wondering, Jordan is third all-time in steals. But the big one is scoring, and that's the mantle James will soon be perched upon for all to see.
However, simply owning a bunch of records because you played for a long time doesn't automatically make one the goat. Kareem has held the record for points since he retired in '89, and very few born after 1970 consider him the greatest of all time. He was also the leader in blocks for quite a few years after leaving the game. Still, we rarely hear an argument for Abdul-Jabbar as the greatest ever. That could be because he's a center, and they're viewed differently as if they play another sport.
Even basketball reference has joined in the propaganda by listing James as having played every position known to the game. That is, except for center. If you're going to list James as a shooting guard, whether early in his career or later, you might as well put him down as having played center too.
Awards, accolades, and such
Sure, James has all the accolades we want a player to have who's in consideration for this fictional title. But so does Jordan, and it took much less than 20 years to gather his achievements. If winning supposedly weighs heaviest in this argument, then Jordan should have it by a mile. Even in terms of scoring, James is about to become the all-time leader but has only one scoring title on his resume.
Jordan accumulated 10 scoring titles in 13 seasons with the Chicago Bulls. In eight of those years, he averaged over 30 points per game to lead the Association. And he did it during a much more defensively dominated era. James has averaged at least 30 ppg four times, including this year. Longevity is amazing, but merely racking up points over a long period does not always equal goatness.
If we're looking at the complete package, defense should be included. Jordan with nine All-defensive team appearances to James' six. MJ is also one of only three players to win MVP and Defensive Player of the Year in the same season. LeBron does not occupy that list, nor does he have a DPOY award.
Ultimately, it comes down to a preference of who you like more, who you grew up watching, or any other factor you'd like to throw into this pot of gumbo. It's hard to persuade someone who's taken a stance for so long, even when the data and evidence are right in front of them. LeBron fans will forever back their savior no matter how much proof is provided that he's still No. 2. You'll see that over the next couple of days once he passes Kareem.
It'll be like he won another championship for some. The run he's had over these two decades has been phenomenal. That can't be taken away from James, his teammates, his business team, or his fan base. But Jordan never felt the need to call himself the GOAT publicly. If it's true, it'll shine through, and others will realize it organically.


Original source here

#ready #LeBron #James #GOAT #propaganda #campaign #hit #full #throttle