Despite being an annual news story around this time of the year — due to the circus that's caused by the way that coaches are fired and hired in the Lone Star State — DeMeco Ryans is returning home to be the newest head coach of the Houston Texans. They say "home is where the heart is," but the Texans don't love anybody — especially Black head coaches.
It's not a question of "if," but one of "when," as Ryans has chosen to take the worst job in the NFL, and will ultimately walk in the same shoes as David Culley and Lovie Smith — the franchise's last two head coaches, who are both Black, that were fired after one season on the job.
It wouldn't be smart for a white coach to take the Texans' job. And at this point, it's nothing but a lucrative payday for Black ones — given that the Black coaches in the past who have led that franchise haven't been allowed to make it through more than one training camp.
Houston, he's home
The Texans have agreed to a six-year deal with the San Francisco 49ers'  defensive coordinator, who was once a former Defensive Rookie of the Year who would go on to be an All-Pro and two-time Pro Bowler during his time as a player in Houston. The length of the deal is important, as it guarantees that Ryans will cash out whenever the Texans decide to be done with him. The "Houston Texans" have been a franchise since 2002, and in that time only Gary Kubiak (almost eight seasons) and Bill O'Brien (almost seven seasons) are the longest-tenured coaches in franchise history — as no one else has been able to stick around due to the team's decision to either hire someone who was sorry, or fire someone before we knew if they were capable.
"DeMeco is a proven coach with a track record of success who has an innate ability to lead people," Texans GM Nick Caserio said in a statement. "… We are working to build a sustainable program that has long-term success and DeMeco is the coach we feel is the best fit to help us achieve our goals. We know how important it is to get results now and we have a lot of work to do, but I'm excited to partner with DeMeco to build our football team together."
G/O Media may get a commission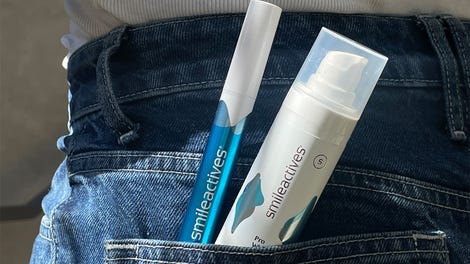 58% off
Whitening Powerhouse Pen & Gel Duo
BRIGHTEN YOUR SMILE
Whiten your teeth at home with Smileactives' one-two punch: the Whitening Powerhouse Pen & Gel Duo. This set will get you the kind of teeth brightening power that uses the same ingredients that dentists rely on for in-office whitening treatments for a fraction of the price.
That's cute. But, this is a franchise that has an all-time regular season and a postseason record of 146-201-1, which calculates to a .421 winning percentage.
And if that wasn't enough, the "news" around Ryans became news itself, as it turned into a battle of he-said/he-said as two of the league's insiders reported different stories on how it all went down. NFL Network's Ian Rapoport reported that the Denver Broncos spent Tuesday trying to convince Ryans, for a second time, to be their new head coach. But once they realized it wasn't happening, they decided to go with Sean Payton.
But according to ESPN's Adam Schefter — the dude who has a history of being a mouthpiece for the league, agents, players, and front offices — Ryans was never in the running in Denver and wasn't contacted by them this week, as Payton was who the Broncos wanted.
DeMeco Ryans once sued the Houston Texans
Who knows, but no matter how Ryans ended up in Houston, there's still the fact that this is a man that once sued his former team and current employer. In 2016, Ryans brought litigation against Harris County, who owns NRG stadium, the management company, the turf company, the Texans, and the league for more than $10 million due to tearing his Achilles in a game against the Texans when he played for the Eagles. Ryans felt like the field conditions led to his injury. Eventually, the league and the Texans were dropped from the lawsuit as the case was settled in 2021.
Houston's history with Black coaches
The marriage between Ryans and the Texans has become a hot topic given the franchise's history of being one of the preeminent examples of how Black coaches are mistreated in the NFL. On one side, you have a team that's on its fourth Black head coach if you add Romeo Crennel's 12-game interim stint in 2020 to the lone seasons that Culley and Smith had before Ryans signed on. But on the other hand, you can't point to the Texans' decision of hiring three consecutive Black coaches as being an example of "diversity" and "racial progress" when, to date, none of those Black men have been allowed to stay on the job as long as the white coaches that preceded them.
Never forget that this is a team that used to be owned by a man who once doubled down on saying, "We can't have the inmates running the prison," when Black players were kneeling in peaceful protest against racism and police brutality during the national anthem. The team is now run by that man's son, who made a public racist remark about Asians at a charity event in 2021.
Hiring a Black person, or any other minority, to do a job without empowering them is useless, as it's proof that they were brought in to make a quota — not an impact. History has shown us that this is how the Texans operate.
When Ryans blows his whistle at training camp, it will be one of his first official moves as the head coach of the Houston Texans. He will be following in the footsteps of the Black men that came before him. And like them, he will more than likely feel a sense of pride as being one of the select few Black head coaches in NFL history. But what DeMeco Ryans must also recognize is that no matter how much he believes that he can be the exception to the rule, he now works for a franchise that's proven that they won't let that happen. The Houston Texans only hire Black coaches to fire them.


Original source here

#Houston #Texans #DeMeco #Ryans #David #Culley #Lovie #Smith