What do Bob Myers, Travis Schlenk, Rob Pelinka, and Monte McNair have in common? They're each experiencing different stages of the NBA's own burgeoning nepo baby regimes.
NY Mag's cover story detailing young actors who'd been afforded opportunities that would have never been available to them without their famous last names introduced nepo babies into the national lexicon. Then, NY Mag's Nicholas Quah attempted to make the same observation about nepotism in the NBA, but it missed the mark.
Referring to Steph Curry as a nepo baby when unproven projects like Zaire Wade being drafted by the G League team his dad partially owns and Bronny James' exorbitant NIL valuation exist feels like a misfire. We saw what Steph Curry did at Davidson.
Besides, only five percent of the NBA is populated by second-generation stars and the majority had to jostle their way as standouts on the floor to even reach the league. Plus-minus, the eye test, the public nature of the job, and the heat of competition have a way of identifying frauds in the crowd. Sports is more of a meritocracy.
Missing from NY Mag's cover were the performers who were ill-suited for the work they'd been thrust into and who continuously got work. Take the majority of John Landis' son Max Landis' screenwriting or Maria Coppola's turn swimming out of her depth in the Godfather Part 3 before retreating behind the camera to become a director. The general public is a good barometer for yeeting bad actors out of marquee roles, but behind the scenes, nepotism can proliferate like a fungus until it obtains control. The same warning applies to the NBA where kids of owners are being groomed as shadow general managers or team presidents.
G/O Media may get a commission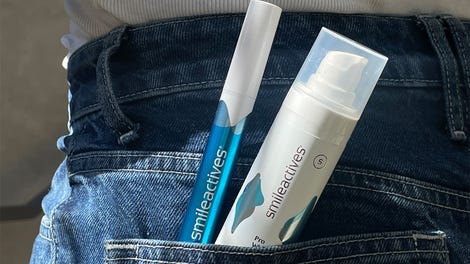 58% off
Whitening Powerhouse Pen & Gel Duo
BRIGHTEN YOUR SMILE
Whiten your teeth at home with Smileactives' one-two punch: the Whitening Powerhouse Pen & Gel Duo. This set will get you the kind of teeth brightening power that uses the same ingredients that dentists rely on for in-office whitening treatments for a fraction of the price.
Nepo babies in team front offices
In Atlanta, Nick Ressler, the 27-year-old son of team owner Tony Ressler has served as director of Basketball Operations for the last two years and recently emerged victorious from a power struggle with President of Basketball Operations Travis Schlenk. Schlenk's track record in the draft has been impeccable, aside from trading Luka Doncic for the Trae Young pick, but blood is blood.
Ressler's close relationship with Young has created concerns within the organization. Fox Sports' Ric Bucher reported in January that the trade to acquire DeJounte Murray from the San Antonio Spurs was engineered by a cabal that included new general manager Landry Fields, Nick Ressler, and Young.
In Golden State, Bob Myers' stint could be rolling to an end as the son of Warrior's majority owner Joe Lacob's son grows his influence. The speculation over Myers' future is rampant because Myers' contract is due to expire at the end of this season making him the offseason's most desirable free agent. Kirk Lacob, 33, joined the organization as general manager of the G League affiliate in Santa Cruz after a semester at sea and is now Myers' deputy as executive vice president of basketball operations.
Ironically, Schlenk, Myers' former assistant general manager on the Warriors before he left for Atlanta in May 2017, would be the ideal replacement in Golden State. However, he may find more of the same here as the circumstances begin to resemble what led to his exit from the Hawks.
Sacramento's Monty McNair is safe for now, but before the draft lottery, last May owner Vivek Ranadivé parachuted his pop singer daughter, Anjali, into the assistant general manager's role for their G League affiliate.
Jeannie Buss' nephew, Jesse, has matriculated through the ranks of the organization where he now operates as an assistant general manager directly below Rob Pelinka on the Lakers masthead. The rumblings around Lakerland signal that Jesse (and Joey) will have a larger say in the roster.
NBA front offices will resemble HBO's Succession
You can see where this is going. Before long, NBA front offices will look like the cast of HBO's Succession. Three decades ago, Bryan Colangelo was the blueprint for this trend. In 1995, the 29-year-old son of the then-Phoenix Suns' owner, Jerry Colangelo, was named general manager of the franchise. Not of the developmental team or the practice squad. There was no G League team then. Granted Colangelo had Ivy League basketball experience stemming from his college career on Cornell's roster, but let's not kid ourselves and pretend like he worked his way up to the top of Phoenix's organizational hierarchy by the time he was 30 through pure acumen and guile. It worked in part because the Colangelos were a basketball family. His father Jerry was a guard at Illinois, a four-time Executive of the Year, and managing director of Team USA's hoops program between 2006 and 2021. That typically isn't the case though.
And even Bryan's basketball executive career ended in disaster when Jerry appointed his son to lead the Philadelphia 76ers Basketball Operations department. Colangelo's front office run with the Sixers came to a screeching halt when he resigned after a burner account was discovered in which his wife disparaged Joel Embiid and other execs with info provided to her by Bryan.
The Lakers, Warriors, Kings, and Hawks franchises may be flourishing now, but we learned from James Dolan's two decades of lowering that bar that sometimes the apple can fall far from the tree. What happens when they take the extra leap and begin entrusting their basketball decisions with second-generation trust fund kids? The Knicks are a cautionary tale. Family, can't live with 'em, can't live without 'em, but you can work without them.


Original source here

#NBAs #Nepo #babies #arent #Steph #Curry #Bronny #James