[ad_1]

We've gotten to the business end of the Group Stage, with Group A finishing up their schedule and sending a host home before the knockouts for the first time. But that was overshadowed by possibly the biggest upset of the tournament so far that blows up the draw a bit. Let's run it through.
Christian Pulisic calls out lackluster attendance at USMNT friendly
Match of the day: Colombia 2 – 1 Germany
This is the biggest result of the tourney, probably more so than Jamaica holding France to a scoreless draw — even if Colombia have more pedigree than the Jamaicans. Germany had widely been predicted to walk this group, even with Colombia having one of the most exciting young players in the tournament in Linda Caicedo. And this wasn't any smash-and-grab where Colombia just got one well placed counter or something. They were full value–tactically astute, brash to the point of knocking Germany totally off their stride, and ruthless when the time came. Germany can have no complaints, though they did have a fair few for the ref (not totally uncalled for either, but we'll get to that).
For most of this match, the result hinged on how each team was dealing with the other's leading light, both of whom are 21 and under. Lena Oberdorf returned to the German team after missing their opener, and it was clear that the first bullet-point on Colombia's to-do list was to know where she was at all times. Colombia's front three with Catalina Usme behind them, especially center forward Mayra Ramirez, were determined to cut off access to Oberdorf whenever the Germans were trying to build out from the back. In fact, Colombia sought to deny Germany any time in midfield, with both of their double pivot in Lorena Bedoya and Daniela Montoya pressing right up onto the German #8s. This is what it looked like a lot of the match: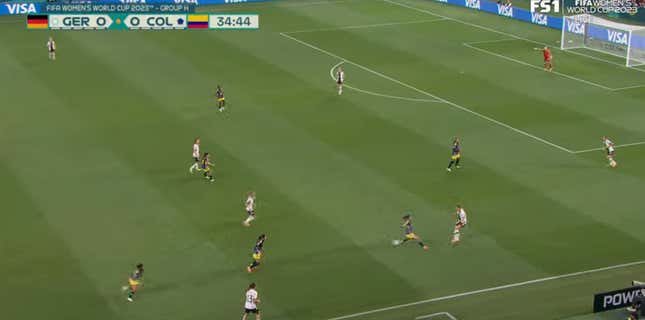 Sure, the first frame is off a dropped ball to the German keeper, but there's Oberdorf bracketed by Colombia. They just weren't going to let her have the ball.
On the other side, Germany could have dealt with the higher Colombia press than they were expecting by pushing their fullbacks higher and changing angles. But they were terrified to do that, fearing what Caicedo and her running buddy on the other side Lady Andrade would do if given space after a giveaway or a turnover and such. Both German fullbacks clearly had instructions to keep Caicedo in front of them.
What you can't really plan for, and Germany maybe should have been a little more prepared for (considering that Ireland pulled out the "fuck this" card 20 minutes into a closed door friendly with Colombia, due to the way that Colombia was pushing them all over the field (and outright kicking them)), was how Las Cafeteras were only too happy to get in Germany's face. Sometimes less than cleanly so. Alexandra Popp took a shot in the ribs away from the ball. Klara Bühl got an earful from Carolina Arias after getting the ball and most of her lower body tackled away from her. For a good portion of the first half, the story was Colombia flying into Germany, sometimes literally, in every which way. It was chippy but it was effective, as the Germans were definitely hearing footsteps whenever they had more than a millisecond with the ball.
Colombia forced Germany to go long, which usually isn't a problem as Alexandra Popp will win most headers up top. But Colombia was tightly drilled to get to the second balls and close off any headers through, cutting off Germany's wingers before they could get there and outworking their midfielders to claim any headers that went backwards.
Getting back to the major protagonists, the thing about these players is you can plan for them, you can dedicate your tactics to stopping them, but 90 minutes is a long time and there's probably going to come a moment where they get loose. Caicedo's came off a corner in the 53rd minute, and no one's going to come up with a plan to stop this on any whiteboard:
No biggie, just find an alley that's barely wider than the ball to pick out the very top of the very top corner. As Warren Barton said on the broadcast, there are World Cup goals that count for more than a point on the board and will live forever. This is one of those, as Caicedo seems to be nitro-boosting herself down the road to best player in the world someday soon.
However, Colombia's furious pressing is the kind of thing that's really hard to keep up for a full match, and they started to drop off somewhere around the 70th minute. Which meant they lost track of Oberdorf coming out of midfield. First, she got herself in the match with one of her trademark tackles that can only be described as MEATY. Here's a good angle of it:
And then she lost her marker in the 88th minute and latched onto a gorgeous touch from Lea Schüller, baited the Colombian keeper in, and got a nailed-on penalty for Germany to equalize:
So all done and dusted then. Germany get out of jail, stay in control of the group, Colombia gets a brave point but stays in second where they were generally picked to be. This is what top tier teams do, find a way even when they might not deserve it. It's what Germany does especially.
These are all things you'd say if you hadn't been paying attention to the defiance Colombia played with all match. Throw in some curious German marking: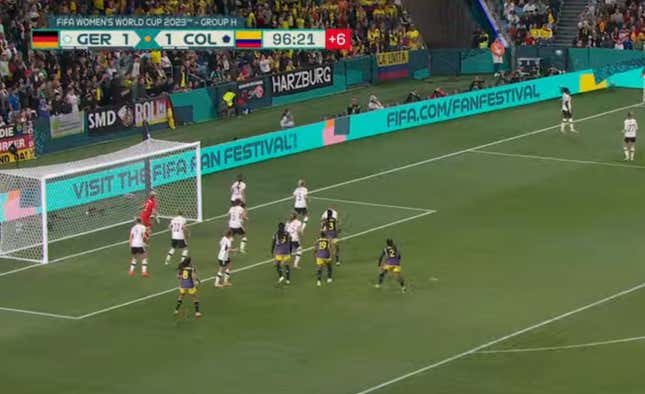 You can see Manuel Vanegas at the penalty spot with no German anywhere near her, as they're all marking zonally within the six. A team isn't expecting to get beat from a header from 12 yards, but that task becomes easier when they have a free run at it. Clever bit of play from Colombia who use the three players in front of Vanegas to keep the Germans from getting out to this ball cleanly. But this is why teams that mark zonally usually use the extra players to man-mark farther up in the box, to prevent exactly this.
And now the draw gets a little goofy. Colombia doesn't have a straightforward task in their last game against Morocco, but all they need is a draw to win the group. Germany will need to match whatever Morocco does, but are looking at getting dumped into a Round of 16 against any of France, Brazil, or even Jamaica, and then a quarter against whoever wins the group between Canada, Australia, or Nigeria. Which may be the easier route than the possible quarter against England they were lining up, assuming England can even field a team by that point.
It was a true joy of a match, right on par with France-Brazil the day before, and a result that shakes the entire competition. And it proves that the truly great players are going to find a way, no matter the planning that goes against them.
Other results: Norway 6 – 0 Philippines
On the other side of the tactical spectrum, we have the Philippines. While this was still a match in the first 20 minutes, there was clearly a plan to play in a low block, and use their two forwards in their 4-4-2 to cut off access to the midfield and make Norway go wide. But you have to pay attention to do that, and the Philippines continually lose sight of Vilde Bøe Risa at the base of Norway's midfield, allowing her to get the ball and turn, which meant she was kicking Norway's attack into high gear consistently, with either a simply five-yard pass or big switches out to the fullbacks who were allowed to get forward once Risa got the ball. She could also put in crosses like this:
Perhaps a lot of sound and ink will be connected to Caroline Graham Hansen getting pissed off and taking it out on the opposition, after she was dropped to the bench in Norway's second game and wasn't shy about discussing how she felt about it. Which led to this Hadoken:
Game. Set. Match.
Norway might consider will spend the time until their Round of 16 match putting Ada Hegerberg through a Clockwork Orange style treatment to get her in the same mindset.
Switzerland 0 – 0 New Zealand
This was 90 minutes of Switzerland knowing they didn't need to put on a show and daring New Zealand to do it, because they had to. Especially as word came down that Norway was tonking the Philippines, New Zealand needed a goal. But this is why you don't lose to the Philippines at home and then think you have any right to go through.
New Zealand were no less toothless against a Switzerland side that basically kept an outstretched hand on their forehead. Géraldine Reuteler, Lia Wäitl, and Coumba Sow, the three midfielders behind #10 Romana Bachmann, basically formed one wall in front of Switzerland's defense, which was forming its own wall. New Zealand ran out of answers when teams figured out that their only real ploy was to try and get Hannah Wilkinson in behind, which Norway let them do with ease. Once that dried up, there was nothing. Three shots on target in a game they had to win pretty much tells the whole story, and even in the 80th minute the Ferns weren't throwing a great number of players forward. It's harsh, but they got what they deserved.
Morocco 1 – 0 Korea Republic
Some wins don't really need to be broken down tactically or statistically, they mean more than that:
Now not only the first Arab nation to qualify, but the first to notch a win. For nations like Morocco that have actually invested so much into their program, you'd want them to have tangible markers to why it's worth it and to drive the work that comes ahead. Well, here you go.
Goal of the Day 
Hansen's belter would have won this on most days. Haug's looped volley to open the scoring for Norway would too. Ibtissam Jraidi's would on another day simply for it's meaning. But come on…
Know her now and for a good long while.
Did Alexei Lalas say anything stupid?
Eh, it's the weekend and I gave myself a break from listening to halftime shows or pregame. You can only take so much, y'know? Still plenty of time to go. 
Follow Sam on Twitter @Felsgate and on Bluesky @felsgate.bsky.social
[ad_2]

Original source here

#Womens #World #Cup #Diary #Day #Give #inch