After Group A decided to keep everyone alive with some truly weird (and awful) soccer on Monday night, it was time to send some teams to the land of wind and ghosts on Tuesday, as Costa Rica, Zambia, and Ireland will make it home before the postcards. Let's make it happen, captain!
Christian Pulisic calls out lackluster attendance at USMNT friendly
Game of the day: Canada 2-1 Ireland
It was the only one of the three that was anywhere close, and probably a lot closer than the Canadians would have liked it. Through two games they've managed to score one goal on their own, which isn't a glittering record, but it's enough for four points and a great chance of going through. Again, Skinner gif.
That didn't mean Canada didn't get off to the stupidest possible start (scroll down to goal of the day to see why) as they gave up an Olimpico to Katie McCabe in just the fourth minute. McCabe tried this a couple times against Australia in Ireland's opener and is known to have a world-class left foot, so why Canada didn't see this one coming, especially in conditions that looked exactly like Cork in the winter, is a mystery.
But it was beyond the goal that made Canada's start pretty muddy. They seemed taken aback at a) Ireland coming at them, after watching them feel their way into their game against Australia and b) how direct Ireland were about it. Canada also couldn't really solve Ireland's 5-4-1 defensive formation, with only Jessie Fleming doing the work and movement to find space to get the ball and try and pick a pass. Certainly going behind so early threw Canada for a loop, and the one thing you can say about them is they're resilient., It just took them a while to show it, with a lot of ponderous touches before that. One shot on target in the first half is the biggest example of the condition Canada were in.
But finally, right before half, Julia Grosso wriggled free, took two touches to launch a low cross on a field that was more suited for waterskiing, and watched Megan Connolly barely get a deflection that took it into her own net. After the half, Christine Sinclair was introduced — Fox seemed to want to make it a controversy that she didn't start but at 40 years old she was never going to log 270 minutes in the group stage — Adriana Leon was moved up front, and suddenly Canada had more dynamism. That doesn't mean they were great, or even good, but the gulf in class between the two teams was pretty evident, which meant it really only required one moment showcasing that to swing it to the Hosers. Step up, Adriana Leon's first touch:
While Ireland huffed and puffed, they really didn't create much, with only one shot between the posts after going behind, a tame long-range effort that was nothing more than catching practice for Canadian keeper Kailen Sheridan.
Ireland will win plaudits for how hard they went after Canada and Australia, two of the game's powers, with the blunted sword that they have. A special thanks to Katie McCabe, who not only scored Ireland's first-ever World Cup goal, and the most special of the tourney so far, but also made it clear that when there's a bench-clearing brawl in a future World Cup, we'll know exactly who started it. Her middle name must be "Marchand."
Other results: Japan 2–0 Costa Rica
Japan never seemingly had to get out of second gear in this one, while making four changes to the side that punted Zambia into the Pacific in their opener. Costa Rica was certainly more spirited than they were against Spain, but that spirit has to come with more organization. Costa Rica wanted to get higher up the field and not simply sit back as they did against Spain, which just let the Spanish pick whatever pass they wanted. They came out pressing Japan in a 4-4-2, but never as a unit, which left either far too much space between the forwards and the midfield, or the midfield and the defense. When it was the former, Japanese midfielders Honoka Hayashi and Yui Hasegawa found it far too easy to pick up the ball off their defenders and then pick a pass through the lines. When it was the latter, the three Japanese forwards–Aoba Fujino, Hikaru Naomoto, and especially Mina Tanaka, dropped off, sat behind the Costa Rican midfield, got a pass, and then turned to run at and terrorize the Costa Rica defense.
Here's a prime example of a Japan forward getting lost behind the Costa Rica midfield:
This is in the build-up to the second goal, where Costa Rica's midfield is nowhere near their forwards defensively: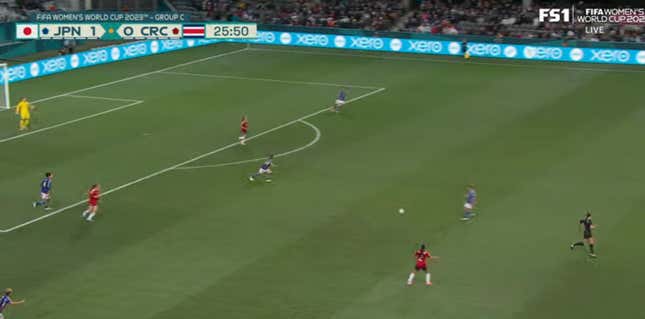 A few minutes later: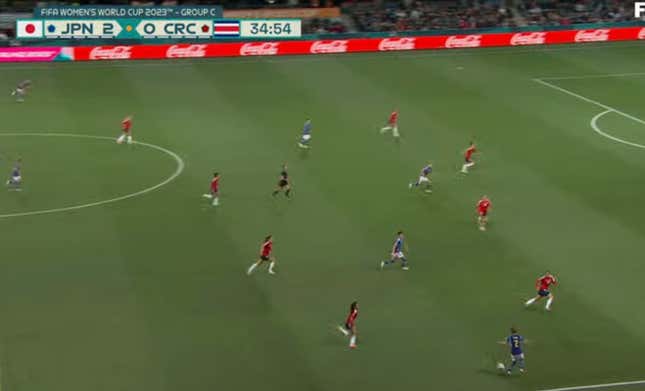 For a team as comfy on the ball as Japan, this is just too easy.
A special shoutout to Tanaka, who in this tournament has provided Japan with two strikers in one. She's constantly dropping between the defensive and midfield line of the opponent to link play and be the attacking fulcrum, and yet is also at the business end when things progress into the box. And she's got the touch and energy to do all of it, as well as being a pressing demon. A true weapon.
Spain 5-0 Zambia
Spain's fifth goal cost us the chance of some pretty goofy possibilities in their final match with Japan. Had it stayed 4-0, both Japan and Spain would have gone into that game with a +7 goal-differential, having scored seven goals. Which means a draw between the two would have come down to yellow cards to see who wins the group, and if they were tied on that then drawing of lots. Oh well!
As for the match, this was more child's play for Spain, who got to use Alexia Putellas from the start and quickly got this gorgeous assist out of her:
This came only a couple minutes after our first ThunderBastard of the tournament, courtesy of Teresa Abelleira:
After those two goals Spain seemed to take their foot off the gas, but the introductions of Alba Redondo and Eva Maria Navarro gave Spain a new edge, and more of a direct threat than we'd seen so far. Y'know, shit like this:
Or:
Or even:
Spain having this change of pace off the bench is pretty frightening for everyone involved. Their match with Japan will basically be a "Who wants to avoid the US in the quarters" showdown, as both of these teams look likely to utterly thwack whoever they face out of Group A.
This one was such a breeze that not only was the wave generated early in the second half, but clearly a throng of children given free tickets to this one made it sound like a birthday party at a bowling alley for most of the half. Not what one needed before dawn.
Goal of the day
It says something about the quality Spain put together that there was some competition for Katie McCabe's Olimpico, but the Olimpico has an Olimpico:
If Ireland get nothing else from this tournament, that's a moment they'll recall for a while.
I'd say having both Canadian and Irish fans would be a great boon for Perth bars…but it's Australia, so…
Did Alexei Lalas say anything stupid?
Yep! In any sport the Terry Bradshaw-inspired pox of having the analysts narrate the highlights has made every halftime show a must-miss, and Lalas certainly didn't make it better. While talking over Japan's second goal: "Never get beat at your near post and certainly don't get beat at your near post by a 19-year-old?"
WHAT? Aoba Fujino isn't some college kid who just ran out onto the pitch with no one noticing. She racked up 11 goals in 20 games in the Japanese league this year. Scoring is kind of her thing.
Great moments in making refs talk
We understand the impetus of having refs now explain over the stadium PA VAR decisions, except most of the time it's not necessary. We get the hand signals. Making them do it in their second, third, fourth, or beyond language seems needless and even a little cruel. Which led to a pretty awkward moment for Spain's fourth goal, which originally was flagged for offside. Ref Hyeon-Jeong Oh mixed up which was being negated by VAR, the offside or the goal, and it took everyone a few moments to figure out what the ruling was. It can't be easy doing that for the first time in a foreign language in front of thousands in the stadium and millions at home.
And for that, we didn't need it. It was a cut-and-dried review, whether or not Redondo was off in the buildup or not. Simply making the VAR signal and pointing to the center circle clues everyone in. There are some VAR decisions that do need parsing out, such as when an offside player impedes a defender for the benefit of an onside player or when the keeper gets caught upfield, etc. Of course, that means that officials would need to explain in even more detail, but we'll get there when we get there.
Simple offside calls like this, penalty decisions, don't really need an explanation. They either are or they aren't, and we don't really need to put refs through this.
---
Follow Sam on Twitter @Felsgate and on Bluesky @Felsgate.bsky.social


Original source here

#World #Cup #Day #easy #youre #big #Japanand #Spain #suppose